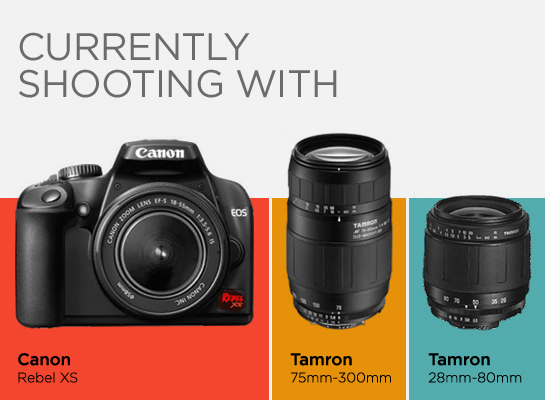 Save, Save, Save
The first thing I did as I went from a producer to a photographer was research camera brands and their camera bodies and lenses. The internet provides a wealth of information on digital SLRs. One of the best resources I have found is photo.net. You can find reviews on brands, bodies, and lenses from Canon, Nikon, Sony, Pentax, and many more. The top two digital camera manufacturers are Canon and Nikon. From bodies to lenses they are the known industry leaders.
So after months of talking to friends, colleagues, and reading online reviews, I decided to go with the Canon Rebel XS/1000D with the Tamron 70-300 and the Tamron 28-80 lenses. I found everything as a kit on eBay. I will not lie, I was nervous to drop $650.00 on eBay because of all the issues and problems people can have with some online retailers. I was very happy with this decision once I got everything and I saw the number of options the two lenses provided for me. The reviews on both lenses were good and I was glad I get two lenses whereas you only get one when you buy the body and kit lens. This experience lead me to do more research on third party lenses (more on Tamron in the future).
The main thing with photography equipment is to get the best value for your money. Having the most expensive equipment doesn't mean you will produce great photos. You have to have a great eye, a good team, the RIGHT equipment and the will to push yourself. Lastly, find quality retailers and know that even with the basics you can produce great shots.
Read More